Artificial intelligence and creativity
Today, artificial intelligence affects many areas of business and everyday life without us even realizing it. It has increasingly important role in marketing. It can make many processes significantly more efficient. However, in the world of design arises resistance against the tools of AI. That is an expected phenomen since the new tool threatens to replace humans. But is it really a threat? Will be graphic designer replaced with AI?
Although, the mainstream idea that AI is the music of future still prevails because of various sci-fi films, it is already part of many industries! Many people imagine artificial intelligence as a computer that generates a completely new design itself. They believe that it is based on specified parameters and they even think that it can be implemented immediately without other additional adjustments. However, today's algorithms are still not at such a perfect level that they could completely replace designers. AI can create original graphic designs and it saves time. The only task you need to do is to enter keywords and the AI creates a creative (tailor-made) solution. However, they are just a kind of auxiliary tool that makes the work of graphic designers easier and can contribute to the creativity and to the creation process of graphic designers.
Adavantages of using artificial intelligence in graphic design:
We will get rid of long manual work
Many of the tools can also propose design alternatives, thanks to that we can avoid repetitive tasks, such as background removal, color change and more.
Generation of new ideas
AI can generate a huge number of unique designs from a prepared database of shapes and colors within a few minutes. Not all of them can actually be used in practice, but they can inspire our initial designs.
Automatic generation of multiple proposals
AI tools can generate multiple version of graphics based on your preferences, needs and previous designs.
What should have a good AI tool?
Intuitive interface
Many AI applications are easier to use thanks to the intuitive navigation in the programme. They are even suitable for beginers.
User friendly design
A good tool will help you not only to create various interesting visual elements, but also functional and usable designs that will allow you to professionally represent your brand.
Optimalization for computers and mobile devices
A good tool will help you efficiently create and edit your content from any platform and device. Some tools let you edit or update designs with a single tap, so you can easily share your content.
10 Tools to create graphics with AI
Some AI tools have been used for a long time without people thinking about them. The most famous ones are integrated into Adobe Creative Cloud programs.
Adobe Sensei:
Adobe Sensei is an intelligent system that uses data analysis to automatically perform repetitive tasks and it helps to improve designer's productivity. For instance, it can extract objects from images or automatically create layers and identify suitable colors and fonts for a given design.
Adobe Firefly:
Adobe Firefly is a new tool from Adobe that combines powerful artificial intelligence with graphic design capabilities. Firefly offers advanced options for automatic generation of designs and creation of graphic elements. This tool also uses the analysis of trends and user preferences, which allows you to quickly create unique and modern designs.
Microsoft:
Not far behind is Microsoft, which has merged the Microsoft Designer application with the Microsoft 365 package and differs from previous applications. Unlike common programs in which you choose from various templates such as buttons, frames, different fonts, aligments or images there you are helped with AI named DALL-E-2 from OpenAI. It allows you to create practically anything you need to create in graphic form, including flyers, logos or the graphics themselves.
App is still in preview and it cannot be used without an invitation. It is necessary to join the waiting list by entering your email and then waiting for the programme to notify you of its availability.
There are more tools of this type nowadays, e.g. popular and well known – the Canva app. Canva is an online design platform that combines ease of use with the use of AI. It can automatically design harmonious color palettes and graphic elements according to specified requirenments.
Let's look at other tools that use AI in graphic design: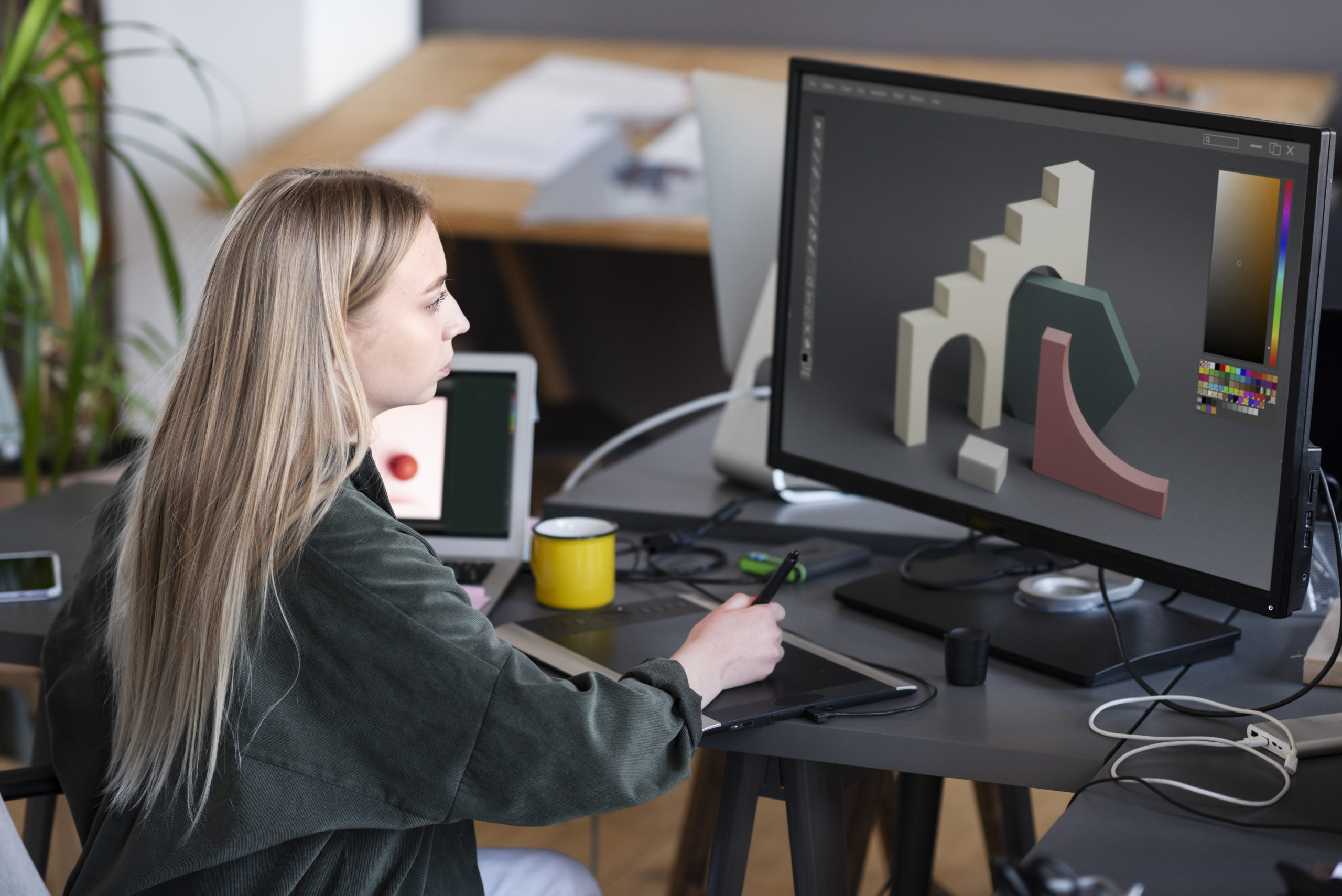 JASPER.AI:
Creation of interfaces. It enables designers to create interactive and personalized use interfaces through intelligent chatbots.
| | |
| --- | --- |
| Advantages | Disadvantages |
| high rate of personalization | requires knowledge about programming and skills with AI |
| interactivity | it may require additional tunning and customization |
| easily usable, intuitive tool | additional fees for plagiarism detection |
TINYWOW:
TinyWow is an innovative tool for creation and optimalization of interactive animations for webpages. Using advanced algoritms and techniques, it automatically generates smooth and effective animations.
| | |
| --- | --- |
| Advantages | Disadvantages |
| can be used easily | it is not suitable for creation complex and detailed animations |
| attractive animations | animations couldn't be manually edited |
| saves time and effort | limitation in comparison to more advanced animation software |
LET'S ENHANCE:
Let's Enhance is a tool that allows designers to improve the quality of images and photos by using pattern recognition algorithms, Let's Enhace can increase the sharpeness and details of imagines, it leads to their enhancement and better visual presentation. Users can edit and optimize photos and images quickly and easily with this smart app.
| | |
| --- | --- |
| Advantages | Disadvantages |
| easy to use | it is not suitable for all kinds of images |
| automatic increase in sharpness and details of images without the need for manual adjustments | for large files, the process may take longer |
SIMPLIFIED:
Simplified is a tool for generating graphic elements and visual designs. Simplified is a great companion for designers who are looking for inspiration and quick, efficient and creative solutions.
| | |
| --- | --- |
| Advantages | Disadvantages |
| easy for usage | it cannot be edited manually |
| fast and creative solutions | it is not suitable for creation of complex and detailed designs |
| aesthetic designs | limitation compared to more advanced design software |
FRONTY:
Fronty AI converts your web sketch into HTML CSS code. You will get the code to create your project in a few minutes.
| | |
| --- | --- |
| Advantages | Disadvantages |
| easy and intuitive tool | still in the development phase |
| it supports an interface for phone or tablet | processing of HTML code can take a long time |
| you can choose from various of templates | it can require addtional edits, it requires some level of technical knowledge |

KHROMA:
A simple tool that creates a database of color combinations based on the colors you like. This is a great tool if you want to look for different color options and find a different color combination that you wouldn't normally think of.
Advantages
Disadvantages
search is not random but it is based on your preferences
process of choosing from unlimited color options can be too long
different and unlimited color combinations
doesn't guarantee aesthetic quality and hormonious choice of colors
iinspiration for designers
AUTODRAW:
This tool allows users to draw quickly and easily, even if they have no drawing talent. Using pattern recognition algorithms and predictive generation, Autodraw designs and complements sketches, enables the rapid creation of drawing and illustrations.
Advantages
Disadvantages
free
no advanced tools for drawing
easy for usage
no suitable for creation of complex and detailed illustrations which require precise drawing
available on all devices
DEEP ART EFFECTS:
is a mobile application that uses artificial intelligence to transform photos into works of art in different styles. Using artificial neural networks and pattern recognition algorithms, Deep Art Effects can turn an ordinary photo into a work or art that is full of colorful and abstract effects. This tool is suitable for designers who want to get inspired and create a unique and artistic visuals.
| | |
| --- | --- |
| Advantges | Disadvantages |
| variety of different effects and styles | process can take longer when it comes to large images |
| inspiration for designers | result can differ from expectations |
FONTJOY:
A tool that will help you to choose matching pairs of fonts. There is a problem with the Slovak diacritics, but nevertheless this project can be inspiring. Additionally, you are able to choose as much contrast as you want.
| | |
| --- | --- |
|  variety of different effects and styles | process can take longer when it comes to large images |
| inspiration for designers | result can differ from expectations |
REMOVE.BG:
This tools is using algorithms for pattern and edge recognition, this tool is suitable for automatically removing the background from images.These examples only indicate the wide range of AI-based tools currently being used in the field of graphic design. Each of these tools bring its own unique benefits and uses, allowing designers to work more efficiently and innovatively.
When evaluating these tools, it is important to consider their purpose and limitations. Although AI can provide support and inspiration to designers, they cannot replace human creativity and aesthetic taste.
| | |
| --- | --- |
| Advantages | Disadvantages |
| easy and effective way how to fastly remove unwanted background from pictures | background removal may be innacurate |
| acceleration of work | result can be different from expectations |
| | it is not possible to edit manually |
During generation of ideas, two processes run simultaneosly. In the first process, the bot searches for images. The process is based on the words or links we enter – a prompt. In the second process, it compares the searched images with other similar ones and it puts everything together to create the final image. Sometimes it's really hard to get a good result. Common problems occur when generating people, AI has trouble with generating natural-looking faces or hands. Problematic are also texts which are mostly misspelled. Most often, the words are don't make a sense and there are large spaces in the text. Who know, maybe we will sometimes reach a point where will AI create exactly what we want. Until then, our graphic designers are here to help! 🙂
If you are interested in IT and digitalization, do not hesitate to contact us. We are digital agency full of dynamic people who are willing to work on 100 % on every project!
Are you planning to start digitizing your company? We will advise you!